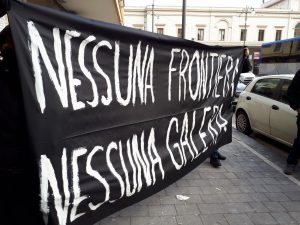 Riceviamo e pubblichiamo il testo del volantino distribuito durante il corteo contro la "legge sicurezza" svoltosi a Salerno.
Uno stato lasciato indisturbato nelle sue campagne d'odio razziale, nelle guerre coloniali, nei saccheggi dell'ambiente, nelle stragi de* lavorator* e nei suoi campi di tortura. Uno stato che continua ad armarsi per sostenere la guerra dentro e fuori i suoi confini. Uno stato che colpisce le persone escluse, sfruttate e chi sceglie di lottare. Nelle scuole, nelle strade, nelle case occupate, nei luoghi di ritrovo e di lavoro, le ricette delle istituzioni ancora una volta sono gli sgomberi, la militarizzazione, il pugno di ferro, l'intimidazione. Al fine di togliere agibilità politica alle lotte sociali, con l'approvazione della legge "sicurezza" vi è stato un ulteriore inasprimento delle misure repressive: per un blocco stradale, ad opera di student*, lavorator*, disoccupat*, migrant*, ora alle sanzioni amministrative si aggiungono condanne penali che vanno fino a sei anni di reclusione. Raddoppiano le pene inflitte a chi occupa uno stabile o un terreno e vi si aggiunge la sanzione amministrativa. La polizia locale viene dotata di micidiali armi elettriche (taser). Per le persone mendicanti e senza fissa dimora può essere attuato l'arresto immediato, misura che unita ai DASPO urbani ed all'uso di trattamenti psichiatrici obbligatori (TSO), rende la condizione di queste persone ancora più precaria e inumana. Viene introdotto il DASPO dai distretti sanitari, impedendo di fatto anche accesso a cure ed assistenza medica. Per le persone migranti le già esigue misure di protezione internazionale si riducono e viene aumentato il fondo rimpatri. Aumentano i tempi di trattenimento negli hotspot (o CARA) fino a 30 giorni e aumenta a 180 giorni il tempo all'interno di un CPR o in altre strutture ritenute idonee. Siamo solidali con le persone migranti che hanno lottato e continuano a lottare per poter decidere delle proprie vite, chiedendo libertà di movimento, case e documenti, mentre per il potere sono semplicemente dei corpi privi di autodeterminazione di cui disporre secondo le proprie necessità politiche e produttive. Rifiutiamo invece il sistema di "accoglienza" che relega le persone migranti ritenute "regolari" in spazi controllati, in cui i loro percorsi sono già tracciati da altr*, e contemporaneamente lascia quelle "irregolari" senza casa e documenti, nel costante timore di essere imprigionate e deportate. Di fronte ai soprusi del potere l'unica risposta sarà sempre e solo l'autogestione e l'azione diretta!
No to "safety" law! No border, no prison!
A state left undisturbed in its campaigns of racial hatred, in the colonial wars, in the looting of the earth, in the massacres of the workers and in its torture camps. A state that continues to arm itself to support the war inside and outside its own borders. A state that affects people who are excluded, exploited, and those who choose to fight. In the schools, in the streets, in the occupied houses, in the meeting places and at work, the institutions' recipe is once again: the evictions, the militarization, the iron fist, the intimidation. In order to remove political agility for social struggles, with the approval of the "security" law there was a further tightening of the repressive measures: for a roadblock, by students, workers, unemployeds, migrants, now to the administrative sanctions are added penal sentences that goes up till six years of imprisonment.The penalties imposed on those who occupy a building or a land are doubled and an administrative sanction is added to it.Local police is equipped with lethal electric weapons (taser). For beggings and homeless people can be implemented an immediate arrest, a measure which, combined with urban DASPOs and the use of mandatory psychiatric treatments (TSO), makes the condition of these people even more precarious and inhumane. The DASPO by the health districts is introduced, preventing access to medical care and assistance. For the migrants, the already small measures of international protection are reduced and the repatriation fund is increased. Increase detention times in hotspots (or CARA) for up to 30 days and increase the time within a CPR or in other facilities deemed suitable for 180 days. We stand in solidarity with the migrant people who have fought and continue to struggle in order to decide their lives, asking for freedom of movement, houses and documents, while for power they are simply bodies without self-determination to be disposed according to their political and productive needs. Instead, we reject the system that relegates migrants considered "regular" in controlled spaces, where their paths are already tracked by others, and at the same time leaves the migrants considered "irregular" without home and documents, in constant fear of being imprisoned and deported. Faced with the abuses of power, the only answer will always be only self-government and direct action!
No à la loi sécurité!Pas de frontière, pas de prison!
Un état laissé tranquille de poursuivre ses campagnes de haine raciale, ses guerres coloniales, le pillage de l'environnement, les massacres des travailleurs et les campes de torture. Un état qui continue à s'armer pour soutenir la guerre à l'intérieur et au dehors de ses confins. Un état qui frappe les personnes sans pouvoir, marginalisès, et qui choisit de lutter. Dans les écoles, dans le rues, dans le maisons occupés, dans les lieux de rendez-vous ou de travail, les remèdes desinstitutions sont toujours les mêmes: les expulsions forcées, la militarisations, le poing de fer, l'intimidation. Pour enlever efficacitè politique aux luttes sociales, avec l'adoption du "décret sécurité", il y a eu une ultérieur aggravation des mesures répressives: pour une simple manifestation, ou un barrage routier, des étudents, des travailleurs, des personnes sans emploi, des personnes immigrés, maintenant aux sanctions administratives on s'ajoutent des condamnationes pénales qui vont jusqu'à six années de reclusion. Les peines infligés a qui occupe un terrain ou un immeuble sont doublés et on s'ajoute la sanction administrative. La police municipale a obtenu en dotation des armes électriques mortelles (taser). Pour les mendiants et les personnes sans domicile fixe il est possible d'obtenir la détention immédiate qui, avec les DASPO urbains et les traitements psychiatriques obligatoires (TSO), rend la situation de ces personnes encore plus précaire et inhumaine. Il est introduit le DASPO des circonscriptions sanitaires, en empêchant l'accès aux traitements medicaux. Pour les immigrés les mesures de protection internationales, déjà modestes, se réduisent et le fonds pour les repatriements est augmenté. Les temps de detention dans les hotspot (ou CARA) augmentent jusqu'à 30 jours et le temp dans un CPR o dans une autre structure pensée apte jusqu'à 180 jours. Nous sommes solidaires des personnes immigrés qui ont lutté et continuent à lutter pour décider de leur propre vie, en demandant liberté de mouvement, habitations et papiers, alors que pour le pouvoir ils sont seulement des corps sans autodétermination à utiliser pour ses nécessités politiques et productives. Nous sommes solidaires de ces luttes. Au contraire nous refusons le système "d'accueil" qui relègue les personnes immigrés retenues réguliers dans des espaces contrôlès, oùleurs chemins sont dejà tracés par d'autres, et en même temps laisse celles irréguliers sans habitation et papiers, avec la peur constante d'être déportés. En face aux abus du pouvoir la seule réponse sera toujours et seulement l'autogestion et l'action directe!